Affiliate and Influencer Marketing may sound and look similar but the two are unique. It can be truly confounding to understand what is the contrast between the two. In simple words, Affiliate Marketing refers to a business model where marketing is a primary source of income. Whereas, Influencer Marketing centers around content curation and building relationships with the audience on social media platforms.
Both Influencer and Affiliate Marketing occur online, making your brand accessible to Affiliates and Potential Clients from all around the world. A relevant question here would be – If both are not similar, how can one utilize them together to attain the set marketing goals. An interesting fact is that when you build them with other inbound marketing ideas, you will discover they're the ideal plan to advance your business and add new revenue flow.
Affiliate Marketing paves the way for brands to get their products promoted through "Affiliates." They act as the salesman for companies and aim to get more clients and deals on the table. The best thing about this type of marketing is that if you choose the best affiliate marketing agency, it can be done at scale and will be highly beneficial. Partnering with the best affiliate marketing agency from the available options allows your brand to cover more grounds, boost sales, and derive more profits.
On the other hand, Influencer Marketing focuses on utilizing the key leaders to deliver your brand's message to a larger market/audience. Influencers create curated content and use social media platforms like YouTube, Instagram to put out a word for your brand's products or services. A premium influencer marketing agency like ours can help you reach out to the right influencers according to your niche. At times when the number of social media users is ever-increasing, not using these platforms wouldn't be a smart choice.
Many of you may still have questions like how can Affiliate and Influencer Marketing be incorporated together? How can your brand benefit from it? Will it be worth the time, effort and resources that will be put to get the work done?
Well, the answer is affirmative, you read that right! Social media platforms have made it possible for anyone to get in touch with Celebrities, Influencers, Market Leaders, Industry Experts, and so on. These people possess the ability to influence the customers in a natural and authentic way. When Affiliate and Influencer Marketing are incorporated, your brand will experience many benefits. The new strategy will do the following:
Drive more Traffic
Get new Clients and Deals
Allow you to get more Business Acquisitions
Help you Promote your Products and Services effectively
Boost your reach by multiple folds
Gain Publicity for your brand
Build Customer Trust
Build a unique Brand Identity online
Open a new medium of communication for your brand
Generate more Sales at a larger scale
The list goes on and on depending on your Marketing needs and goals.
Many marketers become influencers in their privilege by concentrating on offers in a specialty they know well. Further, they can partner with influencers to attract more prospects to their requests. Influencers include the exceptional links to their content and create an adaptable publicizing campaign to communicate your brand's message. The incorporated strategy will facilitate great returns leading to greater profits.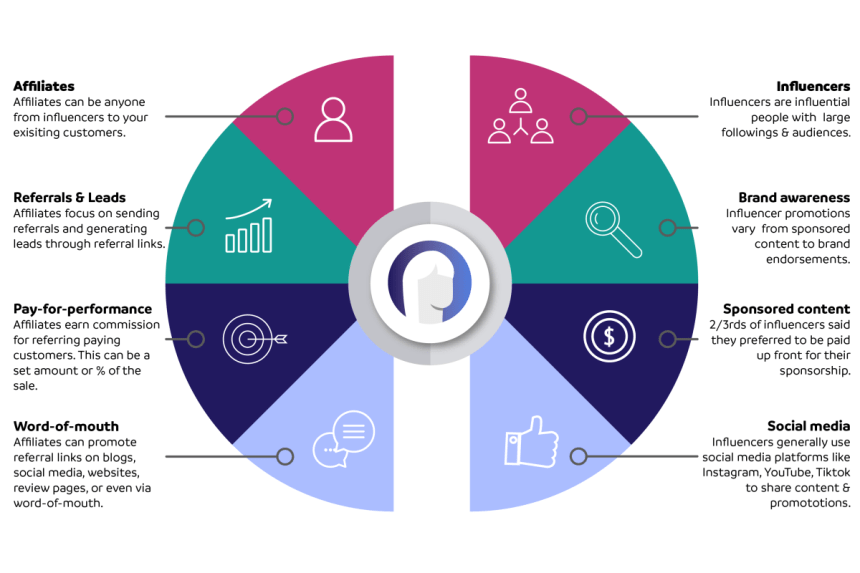 UNV Digital has been developing and executing marketing strategies on global level for around a decade now. We have successfully delivered excellent results to our esteemed clients with our team effort. We employ the best talent to ensure that there is no compromise on the quality and to help you set the best foot forward. We have been considered as the one of the most premium influencer marketing agency and best affiliate marketing agency in India, US, UK, and Canada.
Our approach includes understanding your brand goals first and then moving towards shaping the optimal strategy that is right for you. It includes connecting you with the top Social Media Vloggers, Influencers, and Content Creators to engage your target audiences. We excel in developing innovative Affiliate and Influencer Marketing strategies keeping in mind the long-term potential growth of your brand. For every brand, there's a perfect influencer, and we always know where to find them.
UNV Digital provides detailed reports that focus on the metrics that matter most to our clients. All our campaigns are goal-specific. We analyze the performance, keep the track progress transparent, take necessary measures to make sure that the end goal is achieved.
Now, how do you do that last bit? By becoming the legend out there, of course! And how do you do that? Well, contact us today and know more!
Time to Adapt to New Ways of Marketing!!