Competitor Analysis helps businesses identify their competitors, evaluate their strategies, and determine their strengths and weaknesses. While a lot of businesses do this in-house, hiring the best competitor analysis marketing agency has its own perks. A Detailed market analysis strategy combined with an in-depth Competitor Analysis can prove to be really useful for research and growth purposes. If the competitive market analysis is done appropriately, it will give you a lot of qualitative and quantitative data to back up your decisions related to the business you are in.
If you've hired the best competitor analysis marketing agency, they will conduct a competitive market analysis and provide you with a detailed report. Here are some of the crucial factors that determine if the analysis has been truly useful or not:
Picking the right set of competitors to analyze
Identifying the crucial aspects of businesses that are worth analyzing
Having an idea of where to look for data
Thoroughly understanding how to use those insights and improve your business
The analysis framework will work well for Business Owners, Entrepreneurs, Start-up Founders, Marketers, Product Managers, and so on. Let us tell you how we can help you.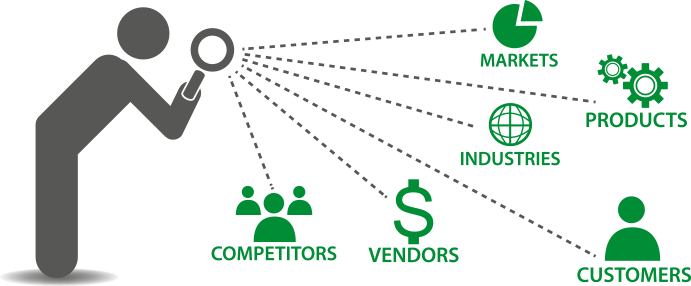 UNV Digital's competitive intelligence solutions are backed with analytics and have the potential to be a critical part of your company's marketing plan. We have been relied on as the best competitor analysis marketing agency by our clients across the world. Our experienced Data Analysts evaluate what makes your service or product unique and what attributes you should play with to attract your target audience.
For every competitor or a particular strategic group, we list down their services and products, growth patterns, profitability, marketing objectives and assumptions. Also the structures – organization and cost, strategies – current and past, strengths and weaknesses, size in sales, etc.
Our well-trained professionals always keep a tab on your competitor's information such as their customer base, financial position, current scenario, marketing campaigns, investment, merger, acquisition, etc. Using this data, we create a detailed market analysis strategy for your brand's growth.
Not only that, we define the metrics, identify your competitors, gather pertinent data, and analyze it to improve your overall competitive position in the market. Furthermore, we use some analytical frameworks to evaluate your competitors and help you strategize against them.
We follow a global delivery method and binding quality and security processes to contribute to your bottom line more practically and productively. Our specific insights on competitors are the results of high-end research and analysis tools and strategies.
We help you stand better in a competitive setting and figure out all past, present, and future strategies to further strengthen your approach.
UNV Digital utilizes both quantitative and qualitative data analysis to conduct a competitive business intelligence research. By measuring various parameters and using statistical software, we can drive you through descriptive reports about your competitors.
If you are looking for a quick, reliable, and cost-effective Competitor Analysis service provider, then you are at the right place.
Get in touch with us today to know how we can help you meet your business goals!
Know your Competitors and be a Step Ahead Always!!