Two-dimensional Animation is the art of creating movements in 2D space. 2D Animation Service is a popular and diverse field that's making a massive comeback. 2D Animation has been made in the world of marketing, where the focus has transitioned from technical specifications to more relatability. It's a mix of eye-catching graphics, voice-over, and text that stimulates different brain areas and makes viewers stay engaged.
Videos are a fantastic way to establish a stronger connection with the viewers. Why? Because the viewers can see moving characters and objects and it keeps them engaged for a longer duration. A great 2D Animation video produced by experienced professionals or the best animation agency with immense expertise can help your brand stand out. Such videos create a pleasant impact while explaining the target audience about your brand/business, your products and services, etc.
2D Animation layers the elements like multiple characters, background, and other components creating the illusion of depth in the videos. These videos can be easily promoted and also enhance your brand promotion strategy. 2D Animation Services have the potential to attract more audience to your brand's content and generate leads for your brand.
An interesting fact is that implementing Animated Brand Video creation has helped brands increase their traffic by almost 157%? Not only that, brands have been able to achieve their SMM goals too. How? Well, 2D Animated Videos are made shareable and are usually circulated on different Social Media networks, enhancing your brands visibility and generating more qualified leads.
Doesn't the idea of developing a rich and distinctive visual style that complements your message and brand sound exciting? If yes, 2D Animation is the right choice for you. It is a robust marketing tool to grow your business by reaching out to the laymen consumer. 2D Animation is an excellent way of storytelling with characters because of its flexibility and wide range of stylistic possibilities.
Now the question is, where will you find a team who can understand your brand and deliver the desired result? Well, we can help you in 2D Animated Brand Video creation for promoting your products and services efficiently.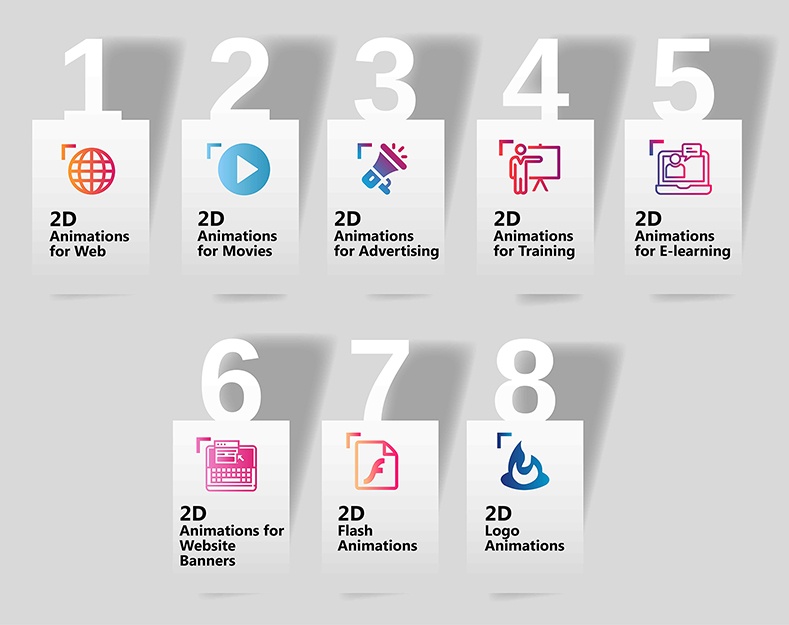 UNV Digital is a group of young and talented professionals with creative thoughts and is one the best animation agency . Our 2D Animation Services team is capable of creating high quality animations with a wide range of styles, spanning every level of complexity. We have a team of experts specialized in this area of work. We can provide you with the best eye-catching and attention grabbing 2D Animated videos.
With our efforts we will help you increase your sales and drive more traffic to your site. We have been providing 2D Animation services to brands across the globe for almost a decade now. Our goal is to help brands implement the modern marketing techniques that drive far better results as compared to conventional marketing.
Get in touch with us today to Educate and Amaze your prospects about your products and services through images, text, and action altogether! Adapt to 2D Animation videos and take your business to the next level.
Stay Amazing Always!!