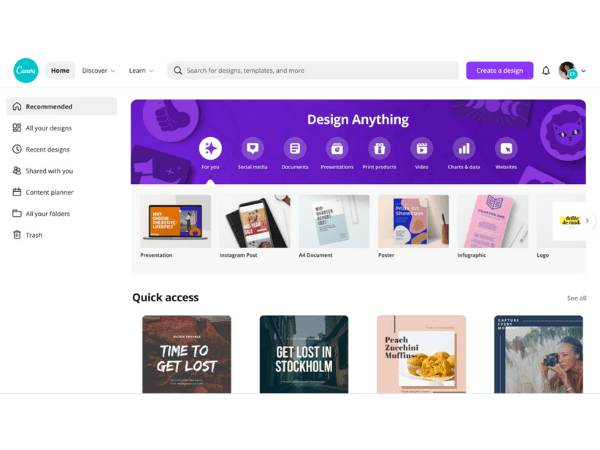 Creativity is required in every field when it comes to building something unique nowadays. With the internet's help and various tools available online, one can put their creative thoughts and create something unique in a very feasible manner. One such tool used by a lot of people is Canva. It has emerged quickly and is known for making creative digital visual content. Here, you will discover some of the best tips for Canva that will enhance your creative skills and help you create all sorts of beautiful designs.
Canva Tips and Tricks for Creating Amazing Designs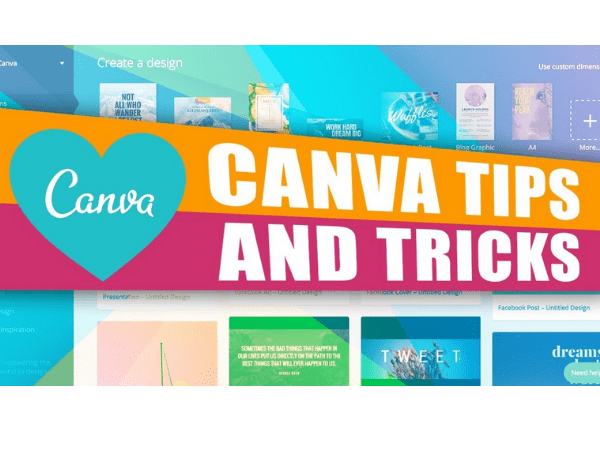 Canva's designing tools make the job easy for anyone who desires to create content in a variety of formats. Along with the amazing in-built tools, you get access to multiple professionally designed templates and layouts. It also gives you the freedom to edit the designs at any given point in time with ease. What makes it more remarkable is its drag and drop interface!
This tool is loaded with lots of unique, easy-to-use features that can help you create:
Documents
Posters
Social Media Graphics
Presentations and Other Visual Content
Just for you, here are some excellent tips for Canva to keep in mind
while creating wonderful and eye-catching designs for your
brand. Dive in and explore!
1] Use the Canva Layers Feature
When you make your images, you can use Canva's layer commands. It enables you to change the order of objects that appear in your design.
2] Add a URL at the Bottom of Your Image
Adding a URL can be of great use when it comes to engaging and telling people about your company. This tactic eventually helps in creating robust brand visibility and attracts more traffic to your website.
3] Use a Consistent set of Colors and Fonts
It's important to stick to the brand guidelines that are already set. This helps you create a stronger brand affinity. For your content on Canva, you can either use a variety of colors or choose the colors of your choice. There is no hard and fast rule or restrictions on only using some specific colors.
4] Add your Brand Logo at the Same Place on Every Image
The position of your brand logo is significant and should remain the same for all your creatives. This will help in making your designs look more consistent. After figuring out the logo's correct position, you can determine the background and other graphical factors to complete your work making it look beautiful.
5] Standardization
Nowadays, people duplicate/copy a lot of creative pieces and use them for their benefit. Making creatives takes effort and time. So, it will be a smart choice to create a rectangular area crosswise at the bottom of each image, where you can feature your website's URL and (optionally) your logo too.
6] Just Copy and Paste
Canva allows you to edit the pictures published on the internet and create the design from scratch. Copy and paste is the most used keyboard shortcut. So, rather than downloading the image from the web, you can simply copy it and paste it directly on Canva. This will help you save time and stay consistent with your designs.
Note: Copy and Paste using the Keyboard and not the Mouse/Cursor.
7] Use Canva Page Manager
It is a great tool that changes the display of how your project looks on your screen. Just scrolling and scrolling can confuse you and make your work challenging at times. The Page Manager helps you manage the page orders efficiently without a hitch. It is beneficial and accessible if you plan to create large documents such as E-Books and long Presentations.
8] The Lock Feature
Again, this is a great feature that will help you create a busy page with ease. You can lock the images, icons, texts, elements, and other things to maintain your creative's alignment at any given point of time. This way, your designs remain consistent and consume less time to get completed.
9] Downloading just One Page
Downloading a single page becomes inaccessible on many designing apps when you want to save any specific page separately. Usually, all the pages get downloaded in a zip file, causing trouble at the later stage. Canva gives you an option to download any particular page that you wish to export. You can re-upload such pages into Canva for mock-up images or if you wish to upload it to a cover generator like My Cover Maker.
10] Canva Hyperlinks Feature
Hyperlinks are fantastic when you make an E-Book or a PDF for your subscribers. Canva allows you to add those to the designs that you create. The clickable hyperlinks are beneficial as they will enable you to direct your viewers to any desired place on the web.
Canva has many unique features that can amplify your print media and custom web designs. Using its tools, you can easily comprehend and make your data look appealing. Additionally, Canva has many tutorials that can help you grow in your creative journey.
The above Tips for Canva will help you create some great content and enhance your work skills and creativity. It's a versatile and perfect tool for all non-designers and other professionals!
About UNV Digital
We are a full-service Digital Marketing Agency with a decade of experience in the industry. Our expert and experienced professionals work endlessly to help companies build a robust online brand presence. UNV Digital has served many national as well as international clients over the years.
We believe in providing a customized solution as per our client's requirements. We will assist you with any service in the Digital Marketing field. You name it, and we have it!
Hope this Canva Tips and Tricks article proves advantageous in speeding your work and saving your precious time in busy schedules. To know how UNV Digital can help you with your business requirements, Contact us for more details.
To learn some exciting Canva tips and tricks, click here.
Happy Designing!
Be the first to receive the Latest News and updates about the Digital Marketing Industry. Join our WhatsApp Group and be a part of the most happening Digital Marketing Community today!