In today's world, Digital technology has entirely overpowered our society. Digital Marketing incredibly influences interactions, life habits, purchases, marketing, etc. Earlier, marketing consisted of print media and the radio, which covered a small range of people and regions. More money was required to captivate the attention of the people. With digital marketing, companies started using social media platforms like WhatsApp Business App, Instagram, Facebook, etc. to advertise. And, now acquiring brand recognition is very easy. But as the days pass by, many organizations are converting their free services to paid ones. In this article, we will unearth information about such service – Whatsapp business.
WhatsApp Business – A Platform
When it comes to social promotion, we mainly think of Instagram, Pinterest, Quora, Reddit, and many more. But not many people know that one of such major platforms is WhatsApp Business App. A text-based app, having users more than LinkedIn and Instagram, has played a vital role in enhancing marketing strategies.
"WhatsApp for Business" allows professionals to talk to their clients directly. Productive use of WhatsApp business account can bridge the gap between you and your consumer to a great extent. One of the first companies in India that have begun using the app is BookMyShow. But the extensive use of this app has triggered its owners to earn a bit of money. Due to some recent changes, now you have to pay for your WhatsApp business account.
WhatsApp Business App – Not Free Anymore
According to research:
More than 175 million users message a WhatsApp business account daily.
People prefer messaging a company to get help, and there are more chances for them to purchase.
On 22nd October 2020, Facebook-owned WhatsApp officially announced that it will now charge its customers for some of its services. The company also informed about the new features that will be releasing in the upcoming months. It is focusing on investment in shopping, communication for businesses, and sales aspects.
These updates are for WhatsApp business API service users and the software interface that allows businesses to manage communications through a third-party dashboard. WhatsApp will continue to provide free end-to-end encrypting texts, video calling, and voice calling services to more than 2 billion users. Facebook relies on advertising on Facebook and Instagram to generate revenue, but now it is trying to generate revenue from WhatsApp. We are dishing out the promising features of the WhatsApp business app that will be introduced soon.
New Features of WhatsApp Business App
For the past two years, WhatsApp Business App and API were providing free services. But according to the customer's feedbacks, WhatsApp is working on some investments. Some of them they mentioned are
Shopping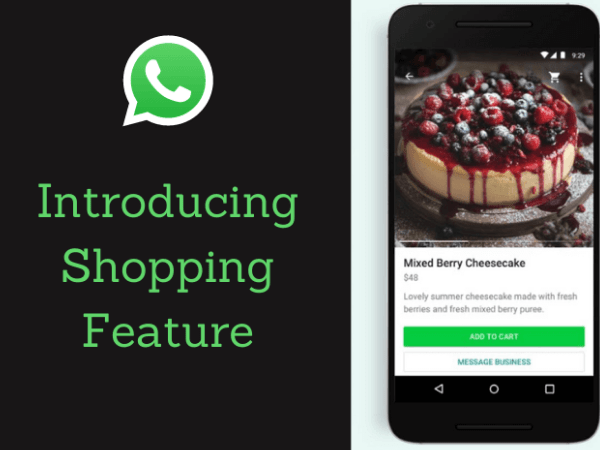 Customers could check out available products and purchases from the chats.
WhatsApp for Business will allow brands to integrate these features into commerce and customer solutions.
It will help small businesses that are affected by the pandemic of 2020.
Facebook Hosting Services
They are expanding partnerships with Business Solution Providers.
It would be a new option for companies to manage their messages through Facebook hosting services.
It would be easy for small businesses to get started and sell their products.
WhatsApp Web is also planning to add voice and video calls. We believe it will be an excellent experience for all users. Hopefully, the benefit of these new features will be seen in the upcoming months.
Stay tuned to get such latest updates on the newest trends. We will be back with some insightful and exciting news soon.
How can UNV Digital help?
UNV Digital is a well-known name in the field of digital marketing services. Our entire work focuses on guiding our clients to uplift their marketing strategies and gaining profits. We believe in providing premium quality services to our customers. Our custom work approach can bring personalized service to your doorsteps.
We offer a distinct range of online marketing services like SEO, Content Marketing, Email Marketing, Influencer Marketing, and much more to help you provide identity in your work. To know more about our various utility services, do not hesitate to reach out to us.
To know more details about the estimated pricing of the WhatsApp Business App, click here.
Be the first to receive the Latest News and updates about the Digital Marketing Industry. Join our WhatsApp Group and be a part of the most happening Digital Marketing Community today!